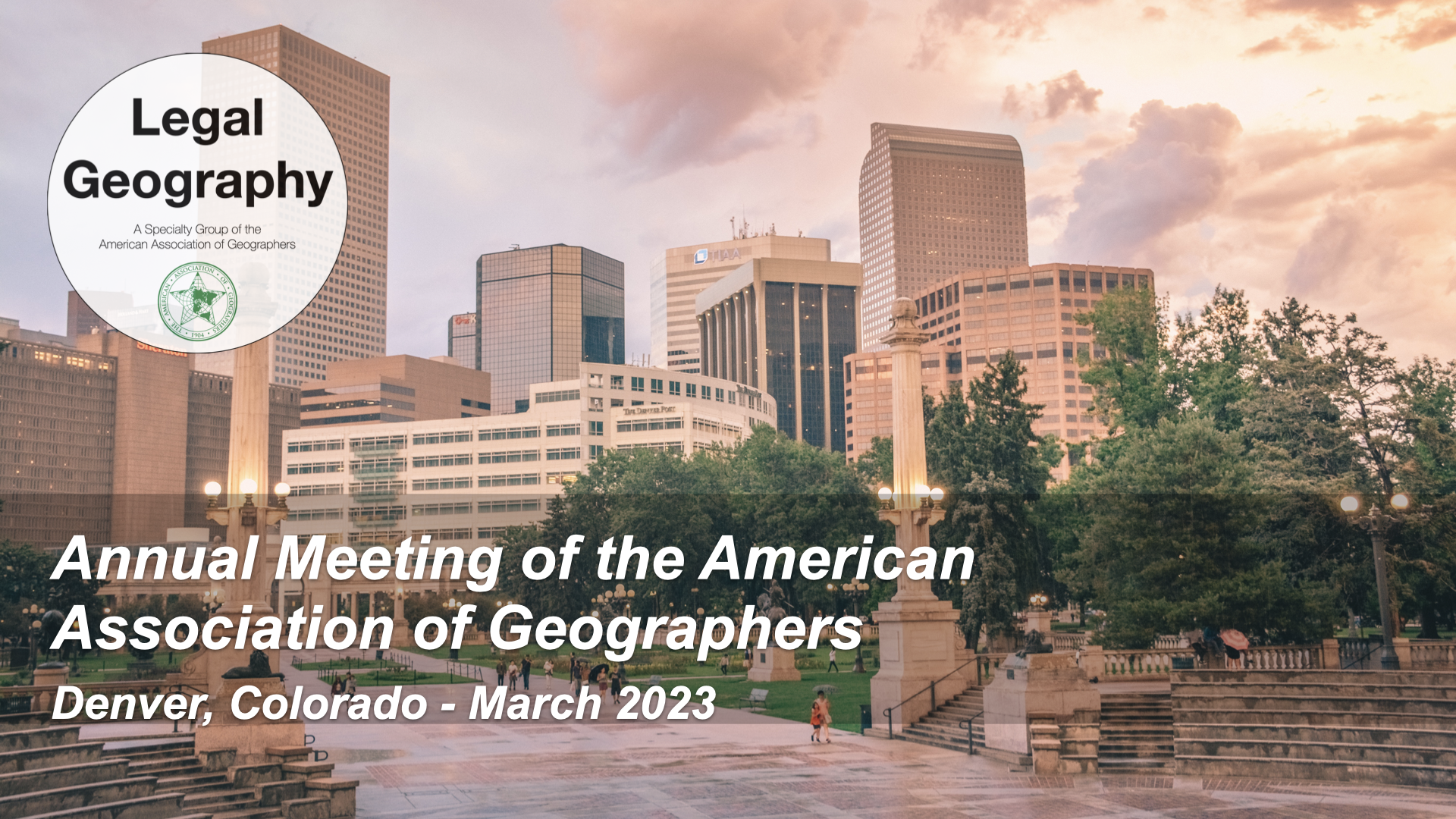 Now Available – Schedule for Graduate Voices in the Lawscape at the AAG in 2023
---
The final schedule for the Legal Geography Specialty Group's sessions titled Graduate Voices in the Lawscape at the upcoming AAG conference in Denver is now available. These three curated sessions feature new research from graduate students whose work intersects with law and space, often in critical and innovative ways.
Learn more about the Legal Geography Specialty Group on their website and follow them on Twitter.
Graduate Voices in the Lawscape Schedule
Primary Organizer: Dr. Sarah Klosterkamp
Date: 3/26/2023
Time: 8:30 AM - 9:50 AM MT
Location: Directors Row H, Sheraton, Plaza Building, Lobby Level

Discussant: Dr. Austin Kocher
Students in cities, students as citizens: towards a legal geography – Christopher Morris
Students in higher education can be considered a distinct class of legal subjects, foremost adopting roles of contractual counterparties as consumers of education, debt and accommodation. To assert their participatory interest(s) in the city, and achieve just outcomes within processes of urban change, they must also navigate the rights and responsibilities of citizenship. Tensions arise where 'town' and 'gown' constructions of citizenship rights do not align; therefore, the perspectives of each city stakeholder, and the nature of the legal and commercial connectivities between them, must be understood to balance and advance their respective interests. By deploying a legal geographical methodology to analyse the (legal and financial) infrastructure regulating those interactions and tensions, and engaging the viewpoint(s) of an increasingly diverse studenthood, praxes of governmentality and other controls exercised by non-student city stakeholders can be found to exploit and perpetuate power imbalances disadvantageous to students: thereby limiting students' participatory agency to shape and control the city. It is argued that examining the city's lawscape in this manner, and configuring student citizenship as a stakeholder interest, might purposefully serve to contextualise and address spatial unfreedoms and systemic inequities experienced by students in university cities.
Private Property, No Trespassing: Mapping the mobility of trespass in Vancouver – Isabella Pojuner
Property is constantly performed, negotiated and redefined. Trespass, to cross the boundary of private property, lends particular insight into this process — one typically understood as inherent, non-negotiable and fixed. My MA research asks why land ownership in England is not a "politically visible" issue (Christophers, 2018) through the lens of trespass activism and the Police, Crimes, Sentencing and Courts Act (2022), which effectively criminalises trespass. It empowers police to act as mediators between landowners and land users, while exacerbating the spatial marginalisation of unhoused and racialised groups (Burgum, Jones and Powell, 2022). This paper investigates a parallel case in Vancouver, where I live and learn on unceded First Nations territories. In 2021, the Vancouver Police Department launched the Trespass Prevention Program. To participate, a property owner exchanges a consent form for a triangular orange decal. When displayed in a door or storefront window, the decals expand police authority to enforce the provincial Trespass Act. But how do officers differentiate between residents, customers or 'trespassers'? Where exactly is the boundary? To investigate these questions, I map trespass signs I encounter. This everyday, spatially embodied methodology enables me to interrogate the efficient and persuasive forms of communication that produce property (Blomley, 2007). Rather than be deterred, I sit with and investigate their context, denaturalising and transgressing this performance (Cresswell, 1992). Trespass signs are produced, distributed, displayed and enforced across the city. Mapping these networks, I aim to demonstrate how their mobility reveals the perception of 'fixed' property as a legal fiction.
Courtroom Guanxi: reciprocity, etiquette, and building relationships in Immigration Court – Alisa Hartsell
While most Immigration Court hearings are open to the public, the "public" rarely interacts with or knows these courts exist. Observing these hearings facilitates a better understanding of the system's complexities that change with every administration. However, navigating the court requires interactions with teams of security officers, legal assistants, translators, attorneys, and judges. Guanxi is the Mandarin word meaning relation, but its deeper meaning is the networks and relationships that facilitate business dealings. Guanxi is reciprocal relationships where both parties expect to benefit. The interactions within the Immigration Court can be viewed as guanxi with expectations of courtesy and honesty between each proceeding. This paper examines these courtroom relationships and interactions through the lens of feminist geolegalities. In these administrative courts, the personal experiences of the migrants are processed through federal law to determine if they meet the legal criteria to remain in the US. Their fates are decided through a series of hearings, from a short master calendar to four-hour individual hearings, which can last for years before a final decision is handed down. This paper explores these relationships from 15 observations of master calendar and individual hearings in three immigration courts: San Antonio, Dallas, and New Orleans. By examining the courtroom interactions, this paper seeks to understand the relationships between the migrants, attorneys, judges, and various figures within the courtroom and the expectations of reciprocity and etiquette in the proceedings.
Locked Away and Forgotten: Examining Symbolic and Social Impacts of Death Sentence Penalties on Death Row Inmates in Ghana – Unusah Aziz
There is a well-established international call to abolish the death penalty, often argued from a human rights perspective as established in treaties such as the Universal Declaration of Human Rights and the International Covenant on Civil and Political Rights. Although Ghana is a signatory to these treaties, the country's constitution (Articles 3 and 72) has established the death penalty as a mandatory punishment for certain crimes, such as murder and treason. Since 1993, however, not a single death row inmate has been executed, rendering the sentence largely symbolic. Despite this, the death penalty's impacts on prisoners and their family members cannot be overlooked. Through examination of how the death penalty impacts Ghanaian prisoners' trajectories and social support networks, this paper argues for the death penalty sentence to be ended altogether, not simply left unused. Drawing on interviews with 12 death row inmates selected from my PhD research on Ghana's prison system, I identify two significant themes that impact the condemned prisoner: Firstly, those with a death sentence are often transferred long distances away from their families which makes continued contact difficult, and secondly, family members retreat emotionally from those they assume will be killed imposing a kind of 'social death' on the prisoner. Ghana's death penalty, then, not only violates human rights principles (i.e. the right to life) but also fundamentally alters and disintegrates families. The paper concludes by considering how transferring prisoners between spaces can contribute to abolishing the death sentence.
Carly Griffith
Date: 3/26/2023
Time: 10:20 AM - 11:40 AM MT
Location: Directors Row J, Sheraton, Plaza Building, Lobby Level

Discussant: Dr. Alida Cantor
Planting for Penitence: The Political Ecology of Court-Ordered Tree Plantation Drives in the Central Ridge Forest, New Delhi – Nivedita Tuli
The Delhi Ridge is the northernmost extension of the rocky Aravalli range, suited to support an open-canopied thorn forest. It is divided into four sections. The Central Ridge Forest, touching the President's Estate, is least accessible to the public. Since 2019, the Delhi High Court has been directing offenders to plant trees in the Central Ridge, part of which has been renamed "Insaaf Bagh" (Garden of Justice). In this paper I investigate discourses underlying the court-orders (through content analysis of court judgements and orders), identify processes through which they are actualized (drawing from my participatory observations as a Delhi Forest Department employee), and their ecological implications (using vegetation sampling). Underlying the court's brand of justice is the assumption that plantation drives are intrinsic "goods" which can compensate for "bads" (crimes). The orders emphasize planting dense-canopied trees, and Insaaf Bagh is now covered with saplings from four broad-leaved species, unlikely to survive without watering. The orders also attempt to appropriate forest spaces for elite use, restyling Central Ridge as a garden, installing cycling tracks, etc. Insaaf Bagh is a continuation of two legacies. First, the colonial legacy of exclusionary plantation dating back to the construction of New Delhi in the 1910s, when the Central Ridge was created by razing twenty-five villages, fencing, and initiating greening efforts. Second, the post-Emergency legacy of judicial adventurism, wherein courts attempted to monopolize forest governance, compromising rights of the poor. These traditions have culminated into an exclusionary, ecologically unsound model of justice which must be challenged.
The changing landscape of land use legal regimes under sea level rise – Ju-Ching Huang
Coastal cities around the world are faced with fast-changing coastal landscapes, local development pressures, and floodplain management tensions. The relatively rapid pace of climate change, along with its related extreme weather events, challenge the ability (and desirability) of land use and zoning regulations to provide predictability and stability in response to a non-stationary environment. While most research focuses on case studies in single legal systems, this research seeks to look at how different governance regimes and legal systems – for instance, centralized, civil law systems (i.e., Taiwan) and federalist, common law systems (i.e., the United States) – utilize legal tools to cope with the dilemma of coastal floodplain development under sea level rise. The research first discusses common features and differences between the Taiwanese land use legal system and the United States' common law land use legal system on issues such as the classical questions of balancing public interest and private property rights and professionalism and public participation in planning and zoning processes. Then it examines how these similarities and differences affect current coastal land use on the ground. While the context may vary, the research shows striking similarities in the struggles and challenges of land use and planning legal regimes and climate change governance. It also presents opportunities for shaping the future legal landscape of land use and planning legal regimes in both centralized, civil law and federalist, common law systems.
Compensation in Perpetuity? Charting Historic Island Displacement & Geographies of Repair – Brittany Wheeler
Colonial and post-colonial relationships between islands and distant seats of power have long been facilitated through legal, political, military, economic, and environmental mechanisms of control. They have also, however, maintained their connections through limited policies of repair (at various scales) and calls for further action and acknowledgement of unjust events (by numerous actors and individuals). This paper presents the complex contours of Chagossian and Marshallese displacement and diasporic life through the lens of compensation—as delivered in the past, debated in the present, and used as a proxy for the ongoing responsibilities linking the United States, Britain, other geopolitical states and actors, and archipelagoes. This research brings together geography's ruminations on morality and ethics, the law, and temporality to ask–and begin to answer–the following questions: "How, why, and when are reparative concerns included or omitted in national, bilateral, and international policy?", "How has the possibility of compensation been changed by the (im)mobility of the displaced?", and, finally, "How long do we care about the displaced?" The paper draws on the perceptions and experiences of various stakeholders aligned with Marshallese and Chagossian concerns, as articulated during in-depth interviews and within archival, legal, and journalistic documentation of compensatory thought and action.
Containment in Circulation: A Legal Political Ecology of Logistics – Jared Whear
In 2020, as the COVID-19 pandemic disrupted the supply chain, people worldwide received a crash course in the importance of logistics when corporations like Amazon became a lifeline for many. Before this increased public attention, however, scholars in geography had shown logistics to be a highly political yet indispensable process in the operation of global capitalism. Much of this scholarship underscores how the logistics industry frequently operates at the expense of marginalized people and the environment. In this paper, I contribute to this work by adding a legal political ecology analysis to the establishment of logistics sites in inland North America. Using interviews and participant observation collected at inland ports in the Midwest and Intermountain West, in this paper I show how the logistics industry enacts various forms of containment–in the form of legal enclosures, features in the built environment, and through acts of environmental governance–in order to assist in the movement of commodities. In addition, I highlight how activist organizations scrutinize these forms of enclosure, and the paradoxical nature of containment in an industry that is reliant on the free flow of goods. Last, I illustrate the prominent role municipal and state law plays in the formation of logistics sites. These sites often get carried out against the will of frontline communities, environmentalists, labor activists, and other groups challenging the unfettered expansion of warehouses, distribution centers, and intermodal hubs, despite their critical role in the global supply chain.
Relational Geographies of Place Attachment in Kazakhstan's Northern Borderland. – Alexander Diener
With a long history of ethnic Russian habitation from the Tsarist through Soviet and independence eras, the northern oblasts of Kazakhstan are a zone of potential Russian irredentism. Calls for secession or annexation have, however, been limited thus presenting a ready case for research into evolving place attachments and place identities. Using survey and interview data gathered between 2017-2019, this paper compares the homeland ideals and civil society perceptions of ethnic Russians and Kazakhs residing in Kazakhstan's northern borderland. While these data predate Kazakhstan's civil upheaval of January 2022 and Russia's full-scale invasion of Ukraine, they nevertheless provide insights into the mutability of place-attachments and their capacity to be both multi-sited and varying in scale. Analysis of these data also sheds light on the relational geographies of ethnic Russians outside the Russian Federation and the varied geopolitical and geo-economic roles of different Eurasian borderlands.
[Graduate Voices of the Lawscape 3 – Legal Geographies of Protected Areas, Transformations and Climate Justice (hybrid)
](https://aag.secure-platform.com/aag2023/solicitations/39/sessiongallery/6005)"
Primary Organizer: Paul Druschke
Date: 3/26/2023
Time: 12:50 PM - 2:10 PM MT
Location: Directors Row J, Sheraton, Plaza Building, Lobby Level

Discussant: Dr. Tiffany Grobelski
Deconstructing the Environmental State: Administrative Law's Challenge for Climate Justice in the U.S. – Brookes Hammock
In an analysis of the liberal state's role in climate justice struggles, geographers Geoff Mann and Joel Wainwright ask, "Can the state save us?" They believe it can't—or won't—and instead advocate turning away from the state toward indigenous and other social movements. While remaining agnostic on the question of whether the state can "save" us, this paper argues that the state will remain a critical zone of engagement for climate justice. This becomes clearer when the state is understood not abstractly but concretely—as the modern administrative state. This paper claims that climate justice activists and scholars should engage more directly with administrative law and policy, especially given the conservative legal movement's increasingly successful attacks on regulation—including environmental regulation. This paper demonstrates the importance of administrative law for climate justice by analyzing West Virginia v. EPA, a case recently decided the U.S. Supreme Court that concerns the Environmental Protection Agency's power to regulate greenhouse gases under the Clean Air Act. Through a revival of an old legal doctrine (the nondelegation doctrine) and the invocation of a new one (the major questions doctrine), challengers in the case hoped to hollow out the Clean Air Act, thereby stripping the EPA of its most successful tool for combatting climate change. By centering this key legal battle over the administrative state, the paper puts readers in a better position to analyze the role of the state in achieving climate justice.
Reterritorialize Properties through Law: Boundary Making of the Giant Panda National Park in China – Fan Li
No land is privately owned in China based on its constitution and land administration statute. Depending on the land use classification of being either urban or rural, different sets of legal relations would apply. Therefore, property regimes are intricately tied to rural-urban boundaries, which set the fundamental tone for these regimes. Boundary-making has become a pivotal instrument for the state to adjust property relations. Many studies have focused on the rapid urbanization turning rural land into urban construction use, while very few have noted the land property transformation in the rural setting. The delimitation of boundaries for the Giant Panda National Park is a contemporary practice encompassing rural villages, partially signaling a land transformation from collectively owned to nationally owned. Such change has multiple implications for the local villagers involved. The foremost one is a new suite of properties will be generated to cater to the Park's objective of biodiversity conservation. Drawing on the expanding legal geography literature on properties qua social relations, I use the empirics of the Giant Panda National Park designation to demonstrate that boundary-making is a spatial practice, reinforcing the co-constitutive relationship between territory, properties, and law. Particular attention would be paid to the contested power relations revolving around delimiting the boundaries on the ground between the local state and concerned villagers. By doing so, this study also aims to complicate the mainstream discourse on the tensions between common and private properties by ushering in property relations without "classic" private property rights in a different setting.
Dephysicalization and Territorialized Flexibility in Protected Areas: (De)Regulating the Informal Constructions in the Swamp Ecosystem in Cartagena de Indias (Colombia) – Moritz Röhrs
Environmental protection and rapid urbanization are major challenges in today's world. A current example are the informal settlements in the swamp ecosystem in the Caribbean metropolis Cartagena, Colombia. With qualitative interviews and (legal) text analysis the author addresses the following research questions: 1. How does the administration use dephysicalization and urban informality to evade the implementation and enforcement of land use regulations and court decisions concerning the swamp? 2. Which role do dephysicalization and urban informality play in the conversion of inalienable land property of the Nation into private property? Public use goods like the swamp area in Cartagena are an attempt to reintegrate property into its socio-ecological supporting context. In contrast, dephysicalization as a mechanism of the conventional property law serves the administration as a legally weak yet efficient argument to justify the disregard of the norms protecting the public use goods. The author demonstrated that the city administration uses inaction to maintain its ability to freely change the land use and to evade its legal obligations to protect the environment and to provide decent housing. Thereby it creates new lawscapes. Moreover, the research found five factors that enable the administration's inaction: Ineffective interinstitutional coordination, inefficient distribution of competences, delaying tactics, abusive use of the administration's discretion, and abusive legal interpretation by the administration. The results from Cartagena are compared to the literature concerning Bogotá, Brazil, India, and Israel/Palestine.
Reconfiguring Productivity, Un-Abandoning Lands: A Look at the OSMRE Abandoned Mine Reclamation Awards Program – Elizabeth Bennett
Throughout the United States, states and municipalities turn to mine reclamation as an engine for economic prosperity by mitigating hazards to human health, property, and production. By mitigating these hazards, abandoned mine lands (AML), located primarily in rural areas, are un-abandoned – the pollution, physical changes, and consequential uselessness are remediated – rendering wasteland potential property. This remediation readies the land for productive use. The federal agency that administers mine reclamation seeks to justify the extensive time and monetary investments states and Native nations make into mine reclamation by demonstrating mine reclamation's economic benefits. In 1993, this agency began a program that awarded coal and hard rock mine reclamation projects that had not only achieved the goals of the federal law regulating mine reclamation, but exceeded the scope of these goals. This process of remaking environments is unique, because while reclamation requires the restoration of both ecological and economic productivity to the landscape, project quality and success is overwhelmingly measured and quantified in economic terms. I argue that studying projects recognized by the OSMRE AML Reclamation Awards allows us to understand how economic productivity is reconfigured and measured in the face of ecological and economic crisis. Through document and media analysis about award-winning reclamation projects, I investigate claims about the value re-conferred to AML. To frame my analysis, I draw from political ecologies of value (Kay 2018, legal geographies of property (Blomley 1998), and the roles that environmental laws play in codifying moral and political-economic structures (M'Gonigle and Takeda 2013).
Each One For Themselves: The transformations of cooperative housing societies by framings of private property in India – Varun Panickar
The cooperative housing society is the predominant form of organisation amongst apartment owners in the Indian metropolis of Mumbai. While this indicates the successful evolution of an unbroken history of co-operative housing societies adopted from the colonial presidency of Bombay beginning in the early 1900s (Ganapati, 2010), the vastly changed character of the modern cooperative housing society raises questions on the inherent nature of its contemporary form (Rao, 2012). Introduced with the promise of providing affordable housing to the urban middle classes, the cooperative housing society in Mumbai today finds itself unable to keep that promise as real estate values of apartments in societies keep rising (Chakravorty, 2013). This paper traces the history of cooperative housing societies in Mumbai by following its changing ability to deliver affordable housing. This history is tied to changes in the legal framework of the cooperative housing setup as 'tenant' members were replaced by 'owner' members thereby allowing an intended commons to be transformed by logics of private property ownership (Rao, 2012). A critical outcome of these amendments to the law has been the cooperative society's inability to stem members' demands for an unhindered access to the real estate market. The paper includes an instrumental case-study detailing the process of redeveloping of a cooperative housing society to highlight the distance between the workings of the cooperative society today and its founding objectives.