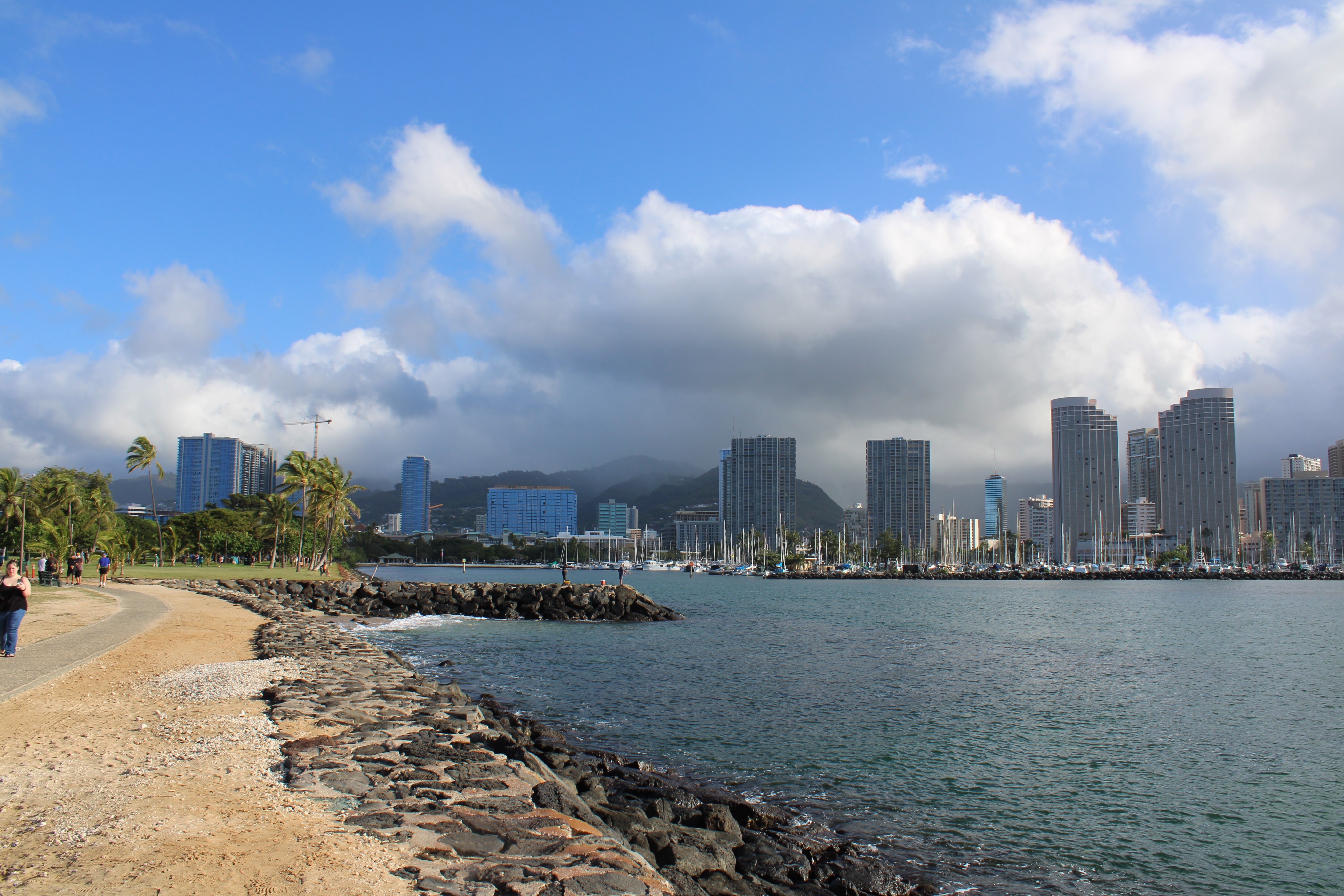 Negotiating Their Future: A Marshallese Geography of U.S. Policy
---
Bilateral negotiations to amend the Compact of Free Association (COFA) between the Republic of the Marshall Islands (RMI) and the United States are currently underway. While frequently framed in terms of U.S geopolitics of the Pacific, we share lesser-known legal outcomes of the ongoing relationship between the RMI and the U.S.
More than one third of the Republic of the Marshall Islands' (RMI) population live in the United States today. This reality is tied to a long, complex history of the United States' presence in Micronesia, a geographically expansive and culturally diverse region in Northern Oceania.
The policy landscape that has governed Marshallese mobility at home and migration to the U.S. is deeply informed by more than a decade of nuclear testing (1946-1958) during the U.S. administration of the Marshall Islands as a United Nations Trust Territory following World War II.
The RMI's current legal position is the result of decades-long political status negotiations, resulting in the Compact of Free Association (COFA), signed into law in 1986, and amended in 2003. Under the Compact the Marshallese can live and work in the U.S. as "non-immigrant" legal residents, and the U.S. maintains exclusive defense rights in the islands. 
Once in the United States, the Marshallese have faced (and worked to amend) a daunting array of policies affecting their healthcare, education, housing, and employment options. Their encounters with this U.S.-based 'lawscape,' where federal, state, and local policies are entwined, might best be called a Marshallese geography of policy.
While many aspects of the impacts of the Compact in U.S. states are readily discussed in the diasporic community, in Pacific Islander-focused NGOs, and in state/city government and some specialized academic corners, this policy landscape is rarely aggregated in order to better understand the context of contemporary Marshallese life. We draw on recent research into the legal geographies of Marshallese mobility and lives in order to amplify and share these stories of experience and advocacy.
"You're so busy focusing on feeding the family that you kind of forget that, yes, your islands are sinking. Yes, there's a COFA, that the negotiations for policy are not, you know, as they should be. And, yes, there was…the whole nuclear legacy, imperialism, and all that jazz. They forget all that because they're so busy trying to feed themselves. And those that are advocating…they're trying to get out there, push…it's so focused in on the immediate need…us that are advocating need to step back and look at the broader view…we're the ones fighting for all the policies, to make it so that it's easier for them to put that food on the table." —Marshallese Advocate
Income & Employment
A key component of the Compact grants the Marshallese the indefinite right to work in the U.S. without a visa. However, its provisions do not always produce a clear and recognizable legal identity for the Marshallese in the U.S. 
Their unique legal status has meant that confusion and delays frequently occur when accessing employment, seeking work authorization, or fielding the paperwork that grants either. At times this has resulted in those seeking employment either abandoning their applications or having to select incorrect citizenship/legal status to proceed through forms–unemployment forms during the COVID-19 pandemic were sometimes subject to such problems.
These issues bring into focus the need for continued legislative attempts to bring their legal status into better correspondence with necessary resources. One such example is the Compact Impact Fairness Act (CIFA), proposed in 2021 by Senators from Hawaiʻi and Arkansas (Hirono, Case, and Womack). This Act would offer COFA residents the same federal benefits that other permanent residents in the U.S. receive (including FEMA, SNAP, etc.).
On a more local level, particular employers of large numbers of Marshallese, such as Tyson Foods in Arkansas, also enter the policy landscape and impact well-being.  For instance, Tyson has been an advocate for community support and collaboration (it offered a $25,000 community grant to the Arkansas Coalition of Marshallese (ACOM) in 2021). It was also, however, critiqued in the same year when it was revealed that Tyson had offered "talking points" to the mayor of Springdale, Arkansas before he was to appear on CNN to discuss COVID outbreaks in meat processing plants.
Education
Education has long been a motivating factor for why Marshallese migrate to the U.S., and is projected to be an increasingly common one in the future, according to recent surveys conducted with Marshallese participants in Hawaiʻi and the Pacific Northwest.
Despite the Compact offering some financial lifelines to complete higher education (such as Pell Grants, which can be used in Micronesia or the U.S.), the Marshallese remain "ineligible for certain loans, making college very difficult to afford."  Further, "absent changes to current law" (which could be announced when the Compact's renegotiation is finalized) the Marshallese will no longer be eligible for certain educational grants.
It is important to note that a number of the U.S-based organizations that now actively engage in policy advocacy were created with the intention of helping Micronesians (including the Marshallese) achieve educational goals, often within the classrooms that precede higher education.  These include Pacific Resources for Education and Learning (PREL), which has a broad mandate across ten Pacific island groups, including Hawaiʻi.  The Marshallese Youth of Orange County in California has likewise been in operation for decades, and was formed to address issues like assimilation in U.S. schools and the lack of continuance toward higher education, while also addressing concerns like cultural loss.
In states like Washington and Arkansas (with the support of the Marshallese Educational Initiative), educators have also implemented school-based policies that involve creating positions for cultural liaisons, drawn from the Marshallese community, to directly assist students, at times developed in the context of language assistance. Other states have taken notice.
Housing
Many Marshallese encounter housing issues in U.S. states. This precarity can take multiple forms, including difficulty paying rent, the need to move frequently, and issues with public housing or homelessness.
Certain states are instructive on these matters. For instance, the state in which the most Marshallese live, Arkansas, is the only state with criminal evictions, which means that not paying rent could, in theory, land someone in jail. Despite this, Arkansas has other legal resources, and in 2020, Legal Aid of Arkansas secured almost $70,000 in compensation to Marshallese tenants after investigating and then filing discrimination complaints with the Department of Housing and Urban Development over "wrongful eviction, abusive behavior, excessive fees and random searches by management."
The state of Hawaiʻi has, historically, been a site of contention for working out–and also representing–housing issues the Marshallese and other COFA migrants face. While it is true that there has been an over-representation of COFA migrants in homelessness and public housing statistics, with The Hawaiʻi Public Housing Authority recording that 10% of all individuals in public housing were COFA residents, many argue that the stigmatization of Micronesians, including the Marshallese, has greatly impacted their access to housing justice. Many resources do exist, however, and are represented in the Marshallese language.
Health
"If it is taking Arkansas DHS [Department of Human Services] 3-4 months on average to process such applications [for Medicaid], it's concerning to even think what our Marshallese/COFA citizens are experiencing in Maine, Alabama, DC, Wyoming or other states that are not familiar with COFA or who we are. It should not be upon us to educate all the DHS in all states this, but we are more than willing to assist them in educating them if needed." – Melisa Laelan, Testimony to Congress, 2021
A substantial amount of journalism, policy reports, and academic research have detailed Marshallese health care needs over the years, including barriers to care in the U.S., and both federal and state-based suggestions for their remedy. Key within all of these depictions is the fact that when Congress passed the Personal Responsibility and Work Opportunity Reconciliation Act (PRWORA) in 1996, Marshallese access to federal public assistance like Medicaid was undone, and remained that way until 2020. 
Today, it is not uncommon for city or state-driven initiatives to use the rationale of past nuclear testing to justify expenditures and policy extensions toward the Marshallese, even decades later.  For instance, in 2017, the state of Oregon signed Senate Bill 147 into law, which both creates a low-cost dental plan for the COFA community and requires COFA islanders to be a part of an advisory stakeholder group that forms recommendations. In introducing the bill earlier, Senator Lee Beyer (D) said, "The only thing wrong with this bill is that it doesn't provide for the service now. What we did to these island nations when they were under the protectorate, we ought to be ashamed." 
As COVID began, a study of Hawaiʻi was published discussing mortality rates in relation to public policy. It found that mortality rates for COFA migrants "increased after their Medicaid benefits expired [in 2009] despite the availability of state-funded premium coverage for private insurance and significant outreach efforts to reduce the impact of this coverage change" (2020). This suggests the risks of piecemeal coverage and the kind of legal gaps discussed here matter deeply.
In December 2020, Congress approved the ability for COFA residents to regain access to Medicaid. Some believe the pandemic was part of the push that finally resulted in this change, despite all the years of activism, raising the question of how political will forms around certain events alongside other avenues for policy change. 
Different states have accompanying coverage and communication differences, which will have bearing on future care. Each state will need to amend its code, as, for instance, Arkansas has done in D-224 Aliens Exempt from Five-Year Bar, to which COFA residents were added in 2021 (previously COFA residents needed to wait to be eligible for Medicaid).
Conclusion
It is hardly an understatement to say that the Marshallese have been (mis)identified as nearly every migratory category the law articulates, despite belonging to a small and unique group of freely associated states. In each of the policy arenas discussed here, institutional ambiguity and discrepancies between federal and state policy pose major challenges to Marshallese COFA migrants. Questions about the funding, longevity, and efficacy of programs and policies that have been adopted in various cities and states in the places the Marshallese live now are also critical to understand. Our review of this policy landscape leads us to suggest:
A greater effort be made toward awareness (and action) on the federal level of Compact impacts in U.S. states
Drawing on the knowledge of well-established community leaders, yet not expecting them to do all the work of plugging gaps and advocating for equity
The recognition of both the similarities and differences between the places in which the Marshallese live–and with whom they live—in order to better understand how to improve their legal lives
A deeper consideration of the ways in which the law can and cannot adjust political will and daily life
Acknowledgements
The authors would like to thank those who offered their insights and experiences on Marshallese life in the United States, as well as those that helped provide broader context on the Compact of Free Association and U.S.-Micronesian relations over time. We would like to thank all those behind the Marshall Islands Climate and Migration Project (MICMP), including its funders, as well as the Edna Bailey Sussman Fund and the Graduate School of Geography at Clark University, without which the research that informs this work would not have been possible. Finally, we'd like to thank the American Association of Geographers (AAG) and their initiatives aimed at connecting students to methods/skills training and each other during COVID, through which the authors met and began collaborating. The authors have used the terms COFA migrant, COFA citizen, COFA islanders, and COFA residents interchangeably in this piece, but acknowledge that others may not, and that the representation of Marshallese lives and legal status is complex. We acknowledge our outsider status as non-Micronesian scholars, and any mistakes are our own.
Further Reading
In addition to the journalism, reports, and academic work linked throughout this brief, the authors recommend consulting The Micronesian Archives at the Honolulu Civil Beat and the Teaching Oceania Series at The Center for Pacific Island Studies at the University of Hawai'i at Mānoa to learn more about Micronesia and U.S.-Marshallese relations from a Micronesian-centered perspective.